To create a new Retirement Village Purchase workflow, click "Workflow" in the navigation bar and select "New Workflow."
Search for an existing client by typing the name or client number into the client field, or create a new client by clicking "New".

If "New" is selected the "Add Contact to Workflow" screen will be presented for new client details to be added. Once entered, click "Save and Return to Workflow".
Select an existing matter from the drop down or click "Add Matter" to create a new matter.
Complete all fields within the new matter. Make sure to select "Retirement Village Purchase" from the matter type menu.
The "Contract date" field is where you would add the Application signed date
Add Stages (Conditions)
Each workflow is a series of stages (with associated tasks) that break the transaction into logical groups of tasks e.g. Open File, Cooling-off Expiry etc. Solicitors Approval will be added in automatically when the workflow is set up.
The solicitor's approval stage will be added in automatically when you open the file. The tasks in this stage will be due 5 days from date of creation of the workflow.
One of the new stages that will be in this workflow is the Cooling off period.
There is a dedicated task in the Open File stage that will remind you to add in the ORA date to the contract data within the workflow and then to add in the cooling off expiry stage.
To add in additional stages, click "Add New Stage"
You will be taken to another screen where you can add in the relevant conditions/stages. Click the drop down:
and select Stage Required:
If the contract has conditions
Add "Cond" stages for each interim condition
Add "Final Cond" for the last (or only condition) as it contains extra tasks related to being the last condition.
Note: The "Stage Name" is displayed as the condition description in the Matter Workflow screen – i.e. Title. The "Document Description" is the condition description as it appears in the precedent documents i.e. Approve Title Search
Update Contract Data
Click "Update Contract Data" to add contract details and contact information to the workflow.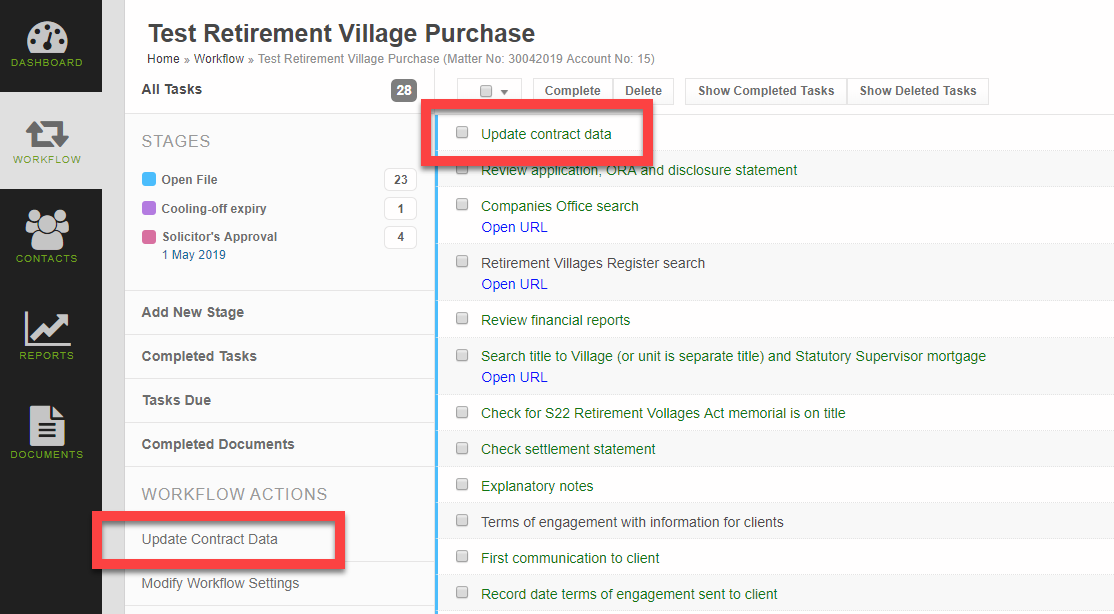 Detail in the "Workflow Fields" screen populates in documents. It includes information from the contract and contact details for clients, Retirement Village, Village Operator etc. When selecting a retirement village, the Village Operator and Statutory Supervisor, will be added automatically

Complete each group and click "Save Changes" to return to the Matter Workflow.