This article looks at how to update stage dates if, for example, a condition has been extended or settlement has been brought forward.

conveyIT Maestro workflow tasks are grouped within stages. Each stage is assigned a due date when added to the workflow. Tasks within the stage have due dates based upon the stage's due date. Updating the due date for the stage will also update the due date for the tasks within that stage.

Select the stage you wish to update.
Once the stage has been selected the "Stage Settings" button will be displayed.
The stage settings will be displayed where you can update the stage due date, the stage name and description.

Select "Recalculate Due Dates"
Select the new stage due date using the calendar displayed.
Or you can use the due date calculator.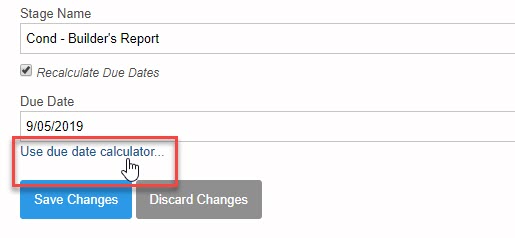 The due date calculator will update the stage due date based on a number of working days or calendar days from contract date, from today, from settlement date or from a selected start date.
Select "Save Changes" when the new due date has been selected.